WHEN:
Saturday, March 28, 2020 – Time TBA

WHERE:
Happening Online Everywhere!

WHAT:
7th Annual Worldwide Endometriosis March (EndoMarch) - Virtual EndoMarch
BECOME A VIRTUAL GUEST SPEAKER
Interested in joining us as Virtual Guest Speaker? Be sure to check 'yes' on the registration form if you'd like sign up to become a Virtual Guest Speaker. Space is limited, but we'll try to include everyone who would like to be share their message to the world on #EndoMarchDay, Saturday, March 28, 2020. The deadline to register as a Virtual Guest Speaker is February 1st, 2020.

SPONSORSHIP OPPORTUNITIES
We welcome your inquiries about becoming an event sponsor. To learn more, just email us at info@endomarch.org, and one of our team members will be able to provide additional details. For certain sponsorship levels, some deadlines may apply, so do send us a note soon so that we can get you onboard and ready to be a part of one of the largest women's health movements in the world!
ENDOMARCH T-SHIRTS & GEAR
We'll add the link to our EndoMarch Store soon, so check back here if you want to support a great cause while rocking out endometriosis awareness gear! All proceeds are donated to help support local teams in affiliation with Worldwide EndoMarch, a 501(c)(3) public charity nonprofit.

To support the fundraising efforts of your local team, click here to find a team or event near you.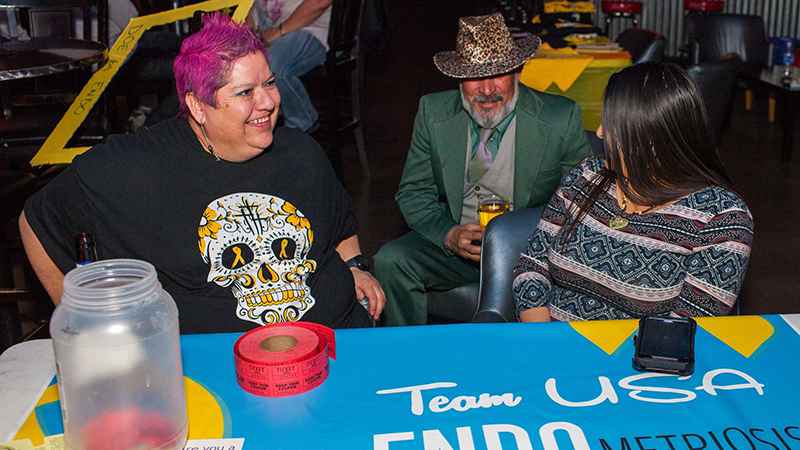 LIMITED EDITION T-SHIRT BY TEAM DOE
Stay tuned also for the link to a gorgeous limited edition t-shirt designed by artist & New Mexico Chapter President, Dolores Gallegos! You can see a bit of a sneak preview in the picture to the left.
FAQS FOR THE VIRTUAL ENDOMARCH
ABOUT THE ENDOMARCH MOVEMENT


The EndoMarch movement has ignited an international endometriosis & menstrual health uprising that has swept across the globe in 60+ countries and counting, leading to dramatically increased awareness and inspiring meaningful policy changes around the world, including here in the U.S., where senators are now involved in spearheading a bipartisan bill to increase federal funding for endometriosis research and public awareness campaigns.
Since our first campaign in 2014, the Worldwide EndoMarch has grown to be the largest, internationally-coordinated endometriosis event & coalition in the world, representing over 100 endometriosis patient advocacy organizations, groups, and medical societies from around the world, which have joined together to fight for change and address the urgent unmet needs of those suffering from endometriosis, a potentially crippling, whole-body chronic disease that is one of the leading causes of gynecologic hospitalization and school absences in adolescent girls. Visit endomarchnews.org to learn more or email us at info@endomarch.org.
2019 ENDOMARCH SUMMARY

Thank you again to everyone who helped make the 2019 EndoMarch a great success! A special shout out to our Guest Speakers, Sponsors, Vendors, and other Special Guests. See the video to the left or click here to see highlights from the 2019 EndoMarch.



2019 ENDOMARCH GUEST SPEAKERS

There were many awesome Guest Speakers from #ENDOMARCH2019. Below are just a few who joined us for the San Francisco event.
GUESTS OF HONOR AND SPEAKERS

There were many fantastic Guests of Honor & Speakers who joined us for #ENDOMARCH2019. Below are just a few who were our guests at the San Francisco event.
Dr. Sunny Jun | Dr. Joelle Osias | Dr. Kevin Smith | Dr. Mai-linh Vu | Dr. Nataliya Vang